Perched right above the City of Destiny and showcasing some of the best views in town, the Pacific Tower condo building presents a thoroughly captivating opportunity. Not only are you in a prime location, but top-notch building amenities offer a "lock and go" lifestyle that promises ease, efficiency, and the ideal situation that enables you to live life to its fullest! 
Regina Madiera-Gorden and Madison Lord share exactly what they love about Pacific Tower in this Downtown Tacoma "City Living" Condo Series video:
Keep reading for an in-depth look at what makes Pacific Tower so special: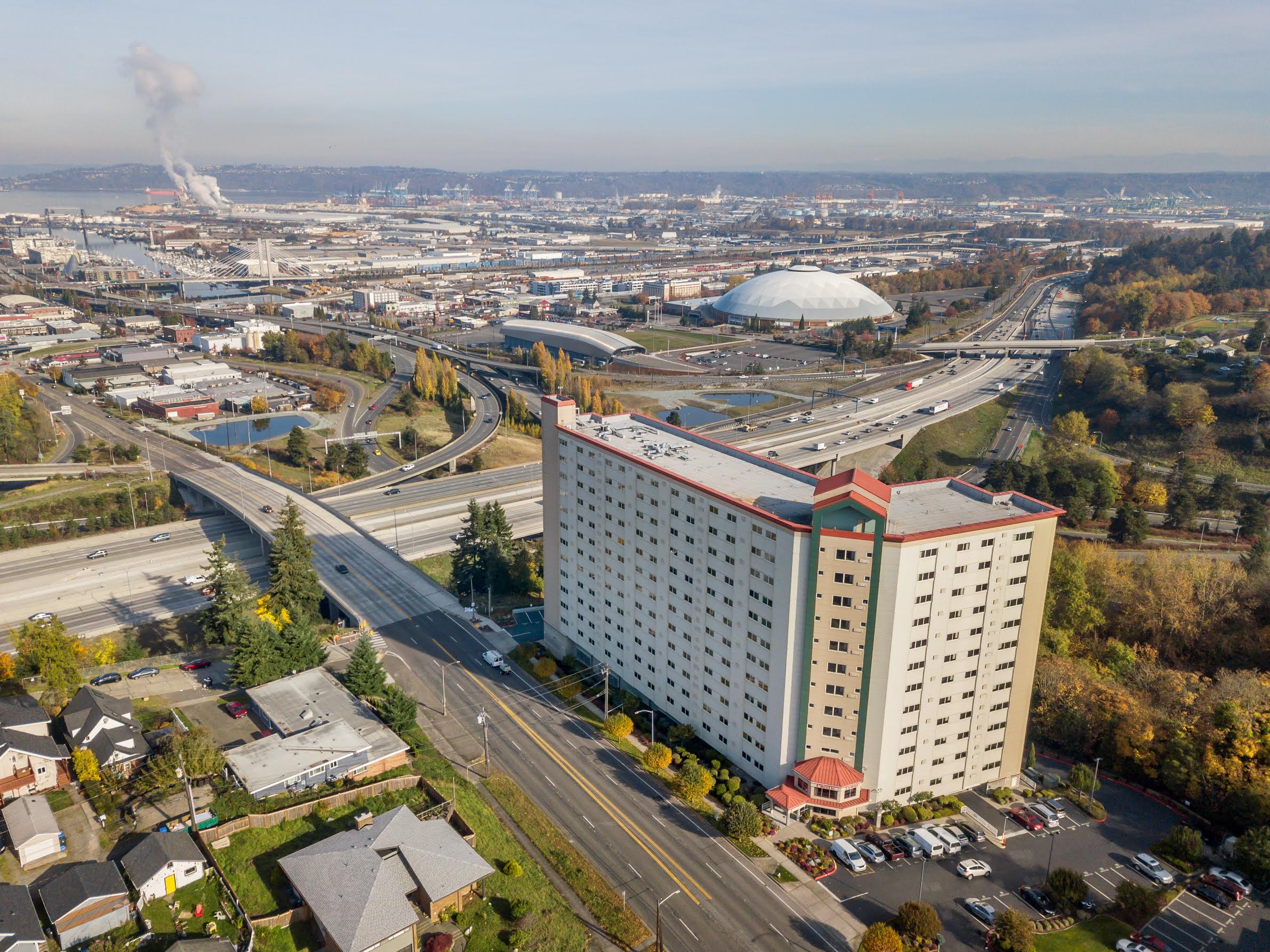 1. Dream location for commuters. 
At 3201 Pacific Ave Tacoma, WA 98418, the Pacific Tower is just south of Downtown Tacoma and right around the corner from the Lincoln District. Interstate-5 is just a couple minutes from home, making it easy to hop on and off the freeway. If taking the train is more your style, the Sounder Train Station at the Tacoma Dome is less than 1 mile away, ensuring it's a breeze to hop on the train (or a bus!) all the way to Seattle.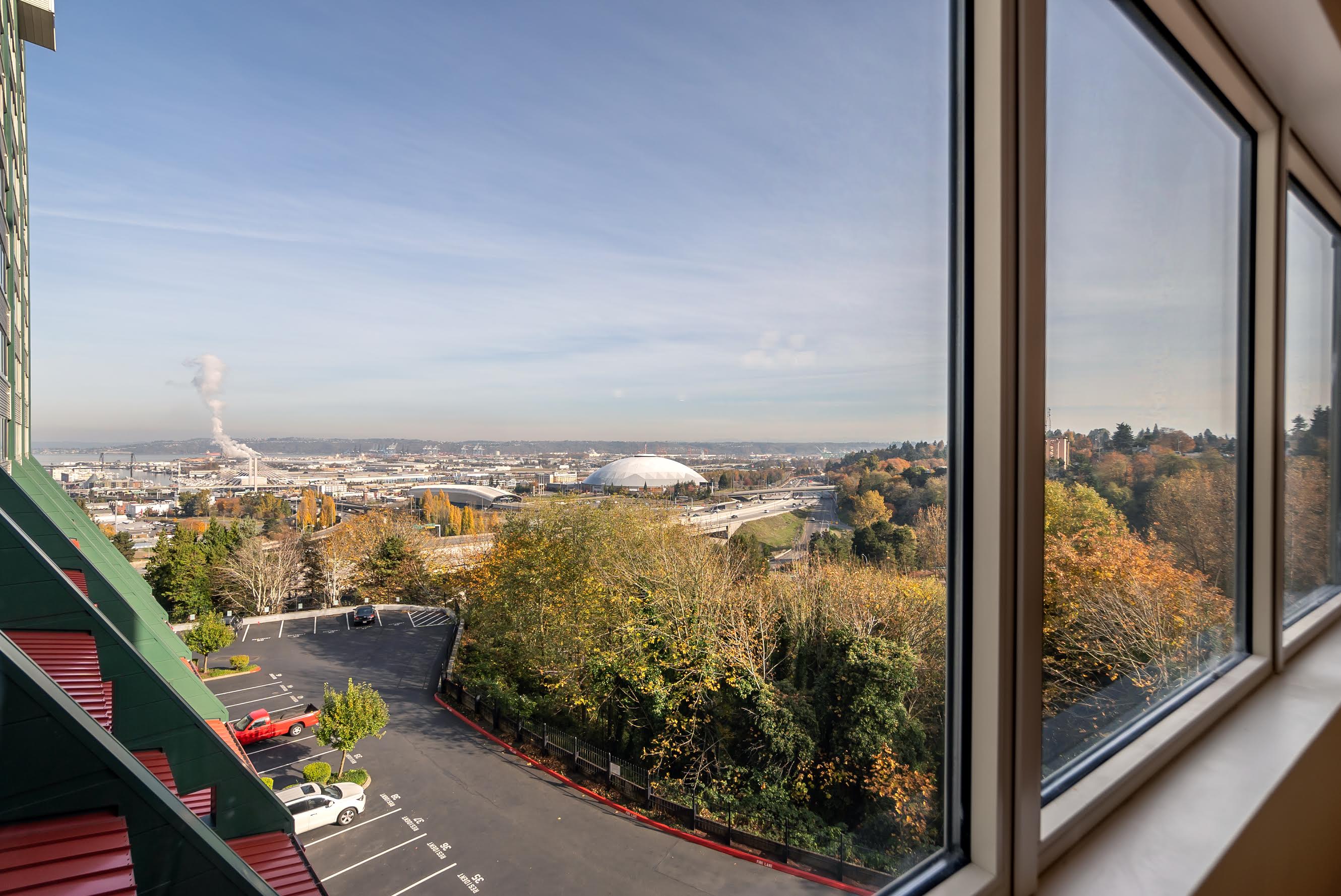 2. Quick and easy access to some of Tacoma's best amenities.
Bus lines run right along Pacific Ave, and you can grab the bus (there's a bus stop just about a block away) and head straight into Downtown Tacoma. Here you can catch the latest exhibit at the Tacoma Art Museum (or one of the other popular museums downtown), enjoy no-hassle access to entertainment (see the latest show at the Pantages), and have a fun night out on the town (there's dozens of popular restaurants and bars easily within reach!). 
The Lincoln District also offers its own fair share of attractions—run errands at Safeway or one of the many other local grocery stores, and enjoy cuisine from around the world. Of course, you can always just head around the corner to indulge in a night out at Stanley and Seafort's! 
3. Iconic Tacoma views await! 
The Pacific Tower has 12 floors, and a large variety of views are available depending on the unit. Views of Thea Foss Waterway, Port of Tacoma (the lights are absolutely stunning at night), the Tacoma Dome, the LeMay Car Museum, and the Puget Sound are all in the mix. Our latest listing boasts expansive views of it all—whether you're whipping up dinner in the kitchen, visiting with guests in the dining area, or relaxing in the living room, you have a memorable view that stretches on into the distance. 
4. Fantastic building amenities promise easy living. 
The Pacific Tower offers its residents a concierge lobby, gym access, a clubhouse (you can even rent it for parties), garbage services, secure parking, and storage. It's all included in the HOA fee (and the cost depends on the unit you're in).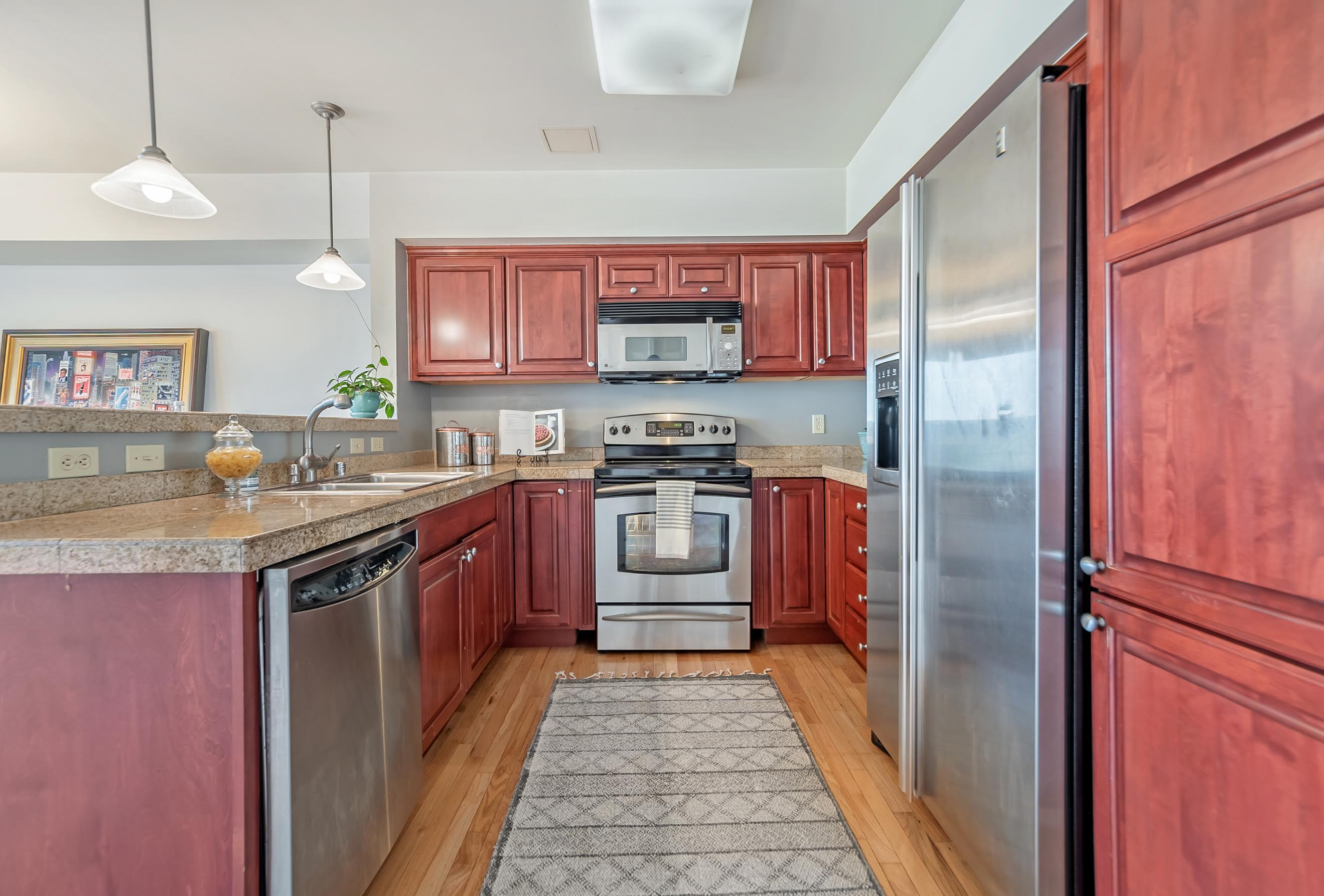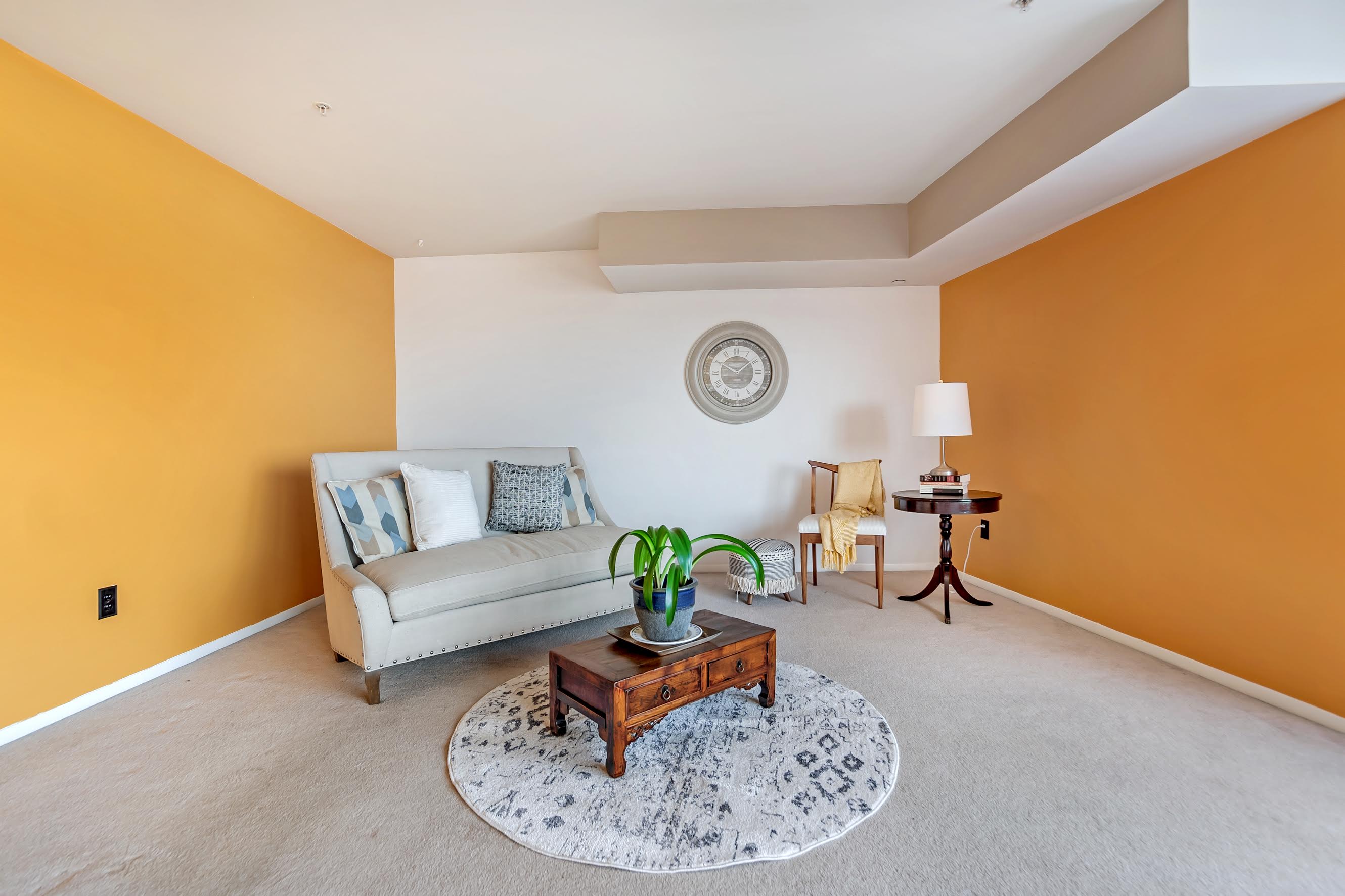 5. A stylish blend of classic style and modern design offer a timeless aesthetic. 
Built in 2002, the Pacific Tower is a traditional industrial building made of metal and steel. It was developed by Oscar Hokold, one of the "godfathers" of Tacoma development and affectionately referred to as King Oscar. This newer building offers residents modern amenities and a classic aesthetic that's sure to stand the test of time. In our latest listing here, a fabulous lifestyle awaits. Featuring a 1,281-square-foot layout, this condo includes 2 bedrooms (a master suite plus a versatile 2nd bedroom), 1.75 baths, a newer kitchen with a breakfast bar, and an open-concept living area with a wall of windows. Located at 3201 Pacific Ave Unit 407 Tacoma, WA 98418, this condo is listed for $275,000. 
Interested in learning more? Click here to view the full listing! 
You can contact REALTOR® Regina Madiera-Gorden online here or give her a call/text at (253) 381-6685 or reach out to REALTOR® Madison Lord online here or give her a call/text at (253) 686-7383.
Located right on Market Street in the heart of Downtown Tacoma, the Vintage Y building is conveniently the Theater District, offering the very best of urban living. This building's historic charm is apparent as soon as you arrive—this must-see beauty still retains much of its original character, and you even have dreamy views of Mt. Rainier, the bay, and the city! 
In this particular Downtown Tacoma "City Living" Condo Series video, Regina and Madison take you on a tour of the Vintage Y and share exactly what makes this landmark so special:
For an even closer look at the Vintage Y, here are 4 major perks of calling this Tacoma treasure home: 
1. Own a piece of Tacoma history! 
The Vintage Y building first opened back in 1910 as the first chapter of the YMCA in the Northwest, and in 2004, the building was completed restored. For those who especially appreciate old world charm and the unique architecture of past eras, this building presents a rare opportunity. Enjoy having fully modern amenities while getting to bask in historic character—quality finishes and designer touches await at each turn. Details like stately columns, eye-catching trimwork, 13-foot ceilings with exquisite ceiling details, a large 6-story staircase, and breathtaking palladium windows are all in the mix, and sure to inspire pride in ownership each time you come and go.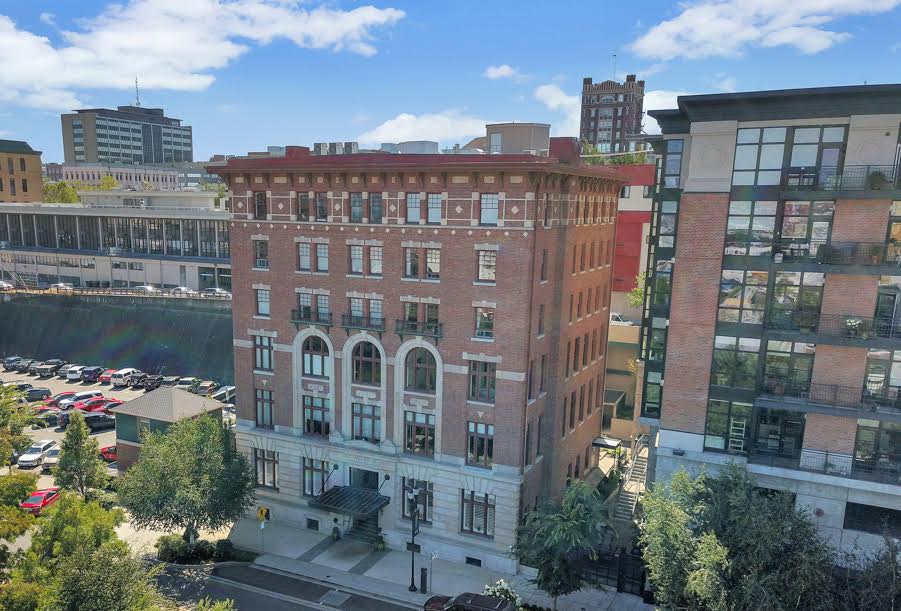 2. Live in a prime Downtown Tacoma location that's close to everything. 
At 714 Market St Tacoma, WA 98402, you're in an urban paradise, and everything from fine dining and popular bars to entertainment and museums are merely steps away. True to its name, this Theatre District location makes it easy to catch a show at The Pantages or The Rialto (they're just a short block away), and The Grand Cinema is just a couple blocks away as well. Grab a bite to eat at Over the Moon Cafe or at the iconic Puget Sound Pizza, and enjoy a drink at Dystopian State Brewing Co. or The Mix after. You're also just a few blocks from the new McMenamins Elks Temple, and dozens of other restaurants, shops, sights and attractions surround you—these are just a few of the many amenities that are a stone's throw from home!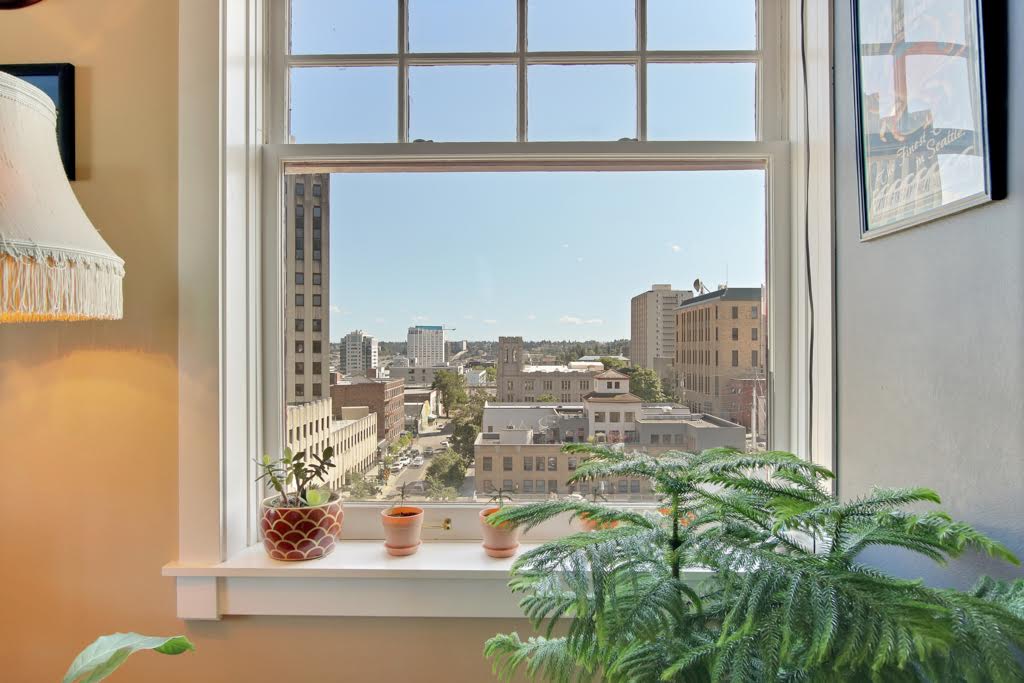 Transit options are aplenty, too—bus lines pick up right along Market Street, and the Theatre District Station is only 0.3 miles from home. Hop on the TLink light rail streetcar here, and take it straight to the Tacoma Dome Station where you can grab a bus or the Sounder Train straight to Seattle. You're also a short 3-minute drive to access Highway 705, which makes it easy to connect to Interstate-5 and beyond. 
3. Enjoy incredible building amenities. 
With the Vintage Y's onsite amenities, you don't have to leave the comfort of home to enjoy things like a gym/fitness center or sunny outdoor relaxation (there's a rooftop patio!). You also get safe parking and a secure entrance for peace of mind.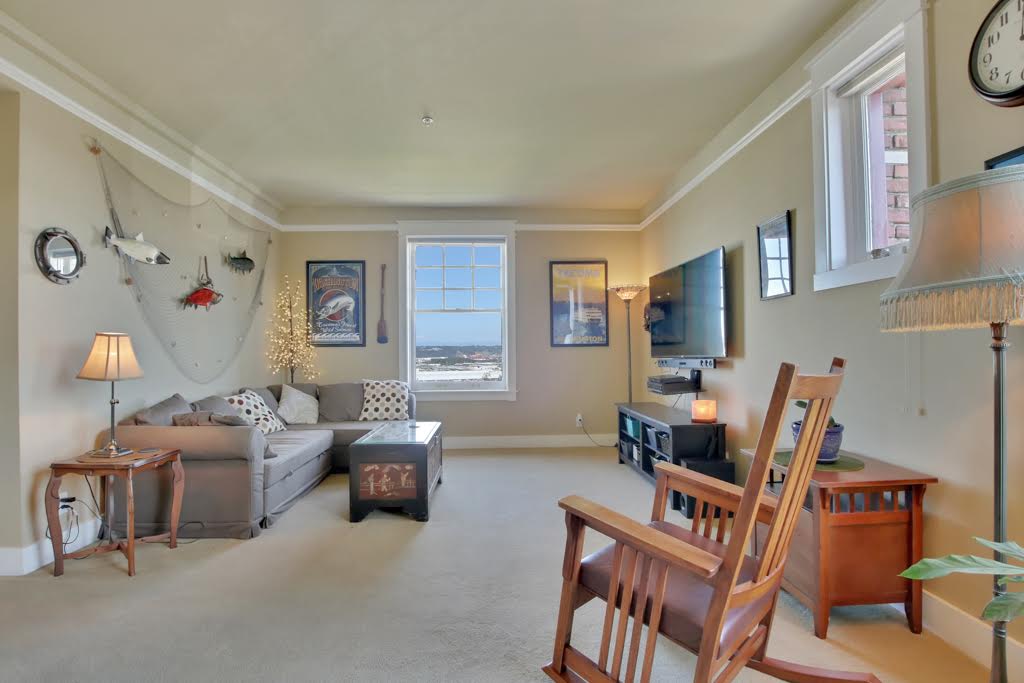 4. Discover beautifully appointed units ready for the modern owner. 
This building offers a rare blend of historic charm, modern move-in ready units, and a prime location, and we're thrilled to share our listing here! Take an elevator to this penthouse corner unit, and discover a 1,083-square-foot layout that includes 2 bedrooms, 1.5 baths, and inviting living areas designed with entertaining in mind. Whether you're relaxing in the living room, hosting guests for dinner, or cooking up something delicious in the kitchen, incredible views of Tacoma and beyond stretch out before you. Located at 714 Market St #602 Tacoma, WA 98402, this unit is listed for $434,950.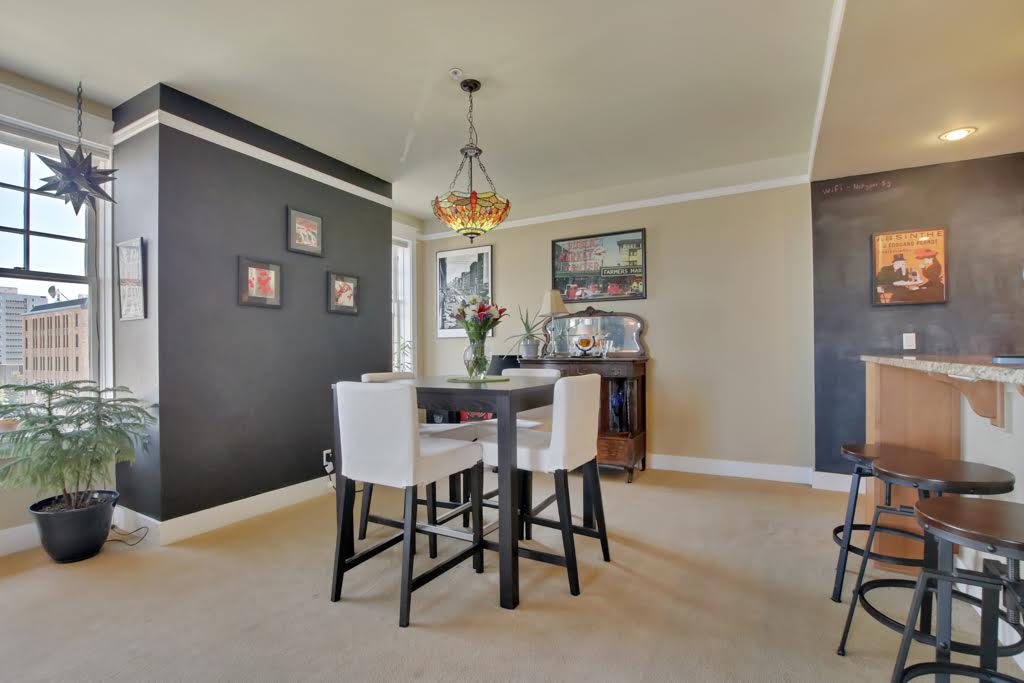 Interested in learning more? Click here to view the full listing! You can contact REALTOR® Regina Madiera-Gorden online here or give her a call/text at (253) 381-6685 or reach out to REALTOR® Madison Lord online here or give her a call/text at (253) 686-7383.
REALTOR® Regina Madiera-Gorden and REALTOR® Madison Lord have sold condos all around the Puget Sound area, and one of their favorite residences is Thea's Landing—it's an urban dweller's paradise! "[Thea's Landing] was the first step in reclaiming the Thea Foss Waterway from Tacoma, and our idea was to bring people and a cultural base to downtown where people could live and play," shares Regina.
Nestled right along the scenic waterway in Downtown Tacoma, this mixed residential building is a dynamic blend of contemporary style and incredible, must-see amenities. In this video, Regina and Madison take you on a tour of the highly desired Thea's Landing building as part of their Downtown Tacoma "City Living" Condo Series:
From the perfect location to its captivating, modern architecture, the units in Thea's Landing offer the complete package—from the second you step inside and check out the breathtaking views, falling in love with the space is inevitable! Here are 4 not-to-miss highlights of this waterfront masterpiece:
1. Perfect urban location.
At 1705 Dock St Tacoma, WA 98402, the best of city life is right at your fingertips. You're just steps from the iconic Museum of Glass, and here you'll find the Chihuly Bridge of Glass, a pedestrian bridge that takes you right to the hustle and bustle of Pacific Avenue. Here you have quick access to museums, theatre, shopping, dining, nightlife, coffeeshops, University of Washington Tacoma, and so much more. Enjoying a night out on the town with friends, catching the latest show in town at the Pantages Theatre, and attending the latest exhibit at the Tacoma Art Museum are all wonderfully within reach!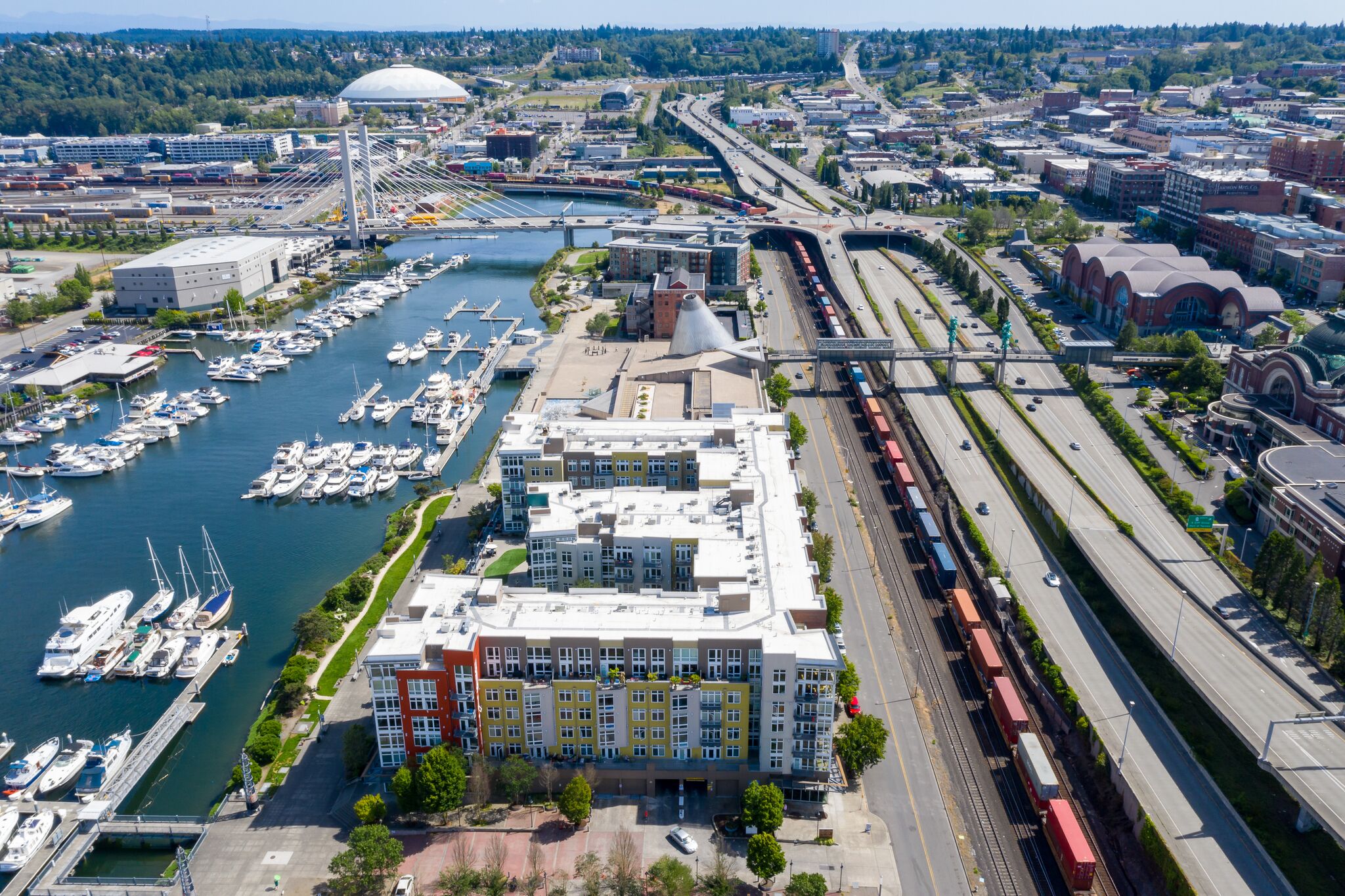 2. Fabulous outdoor amenities give you picturesque Commencement Bay views.
Opportunities for spending time out in the fresh air are aplenty from this location. Not only do you have dreamy views of Commencement Bay and the mountains, but outdoor community amenities offer beautifully manicured spaces to take in the view from. Stroll along the immaculately landscaped promenade that's right on the water's edge, or rent a kayak for the afternoon. Those who own a boat are especially in for a treat—the Dock Street Marina is just steps from your front door!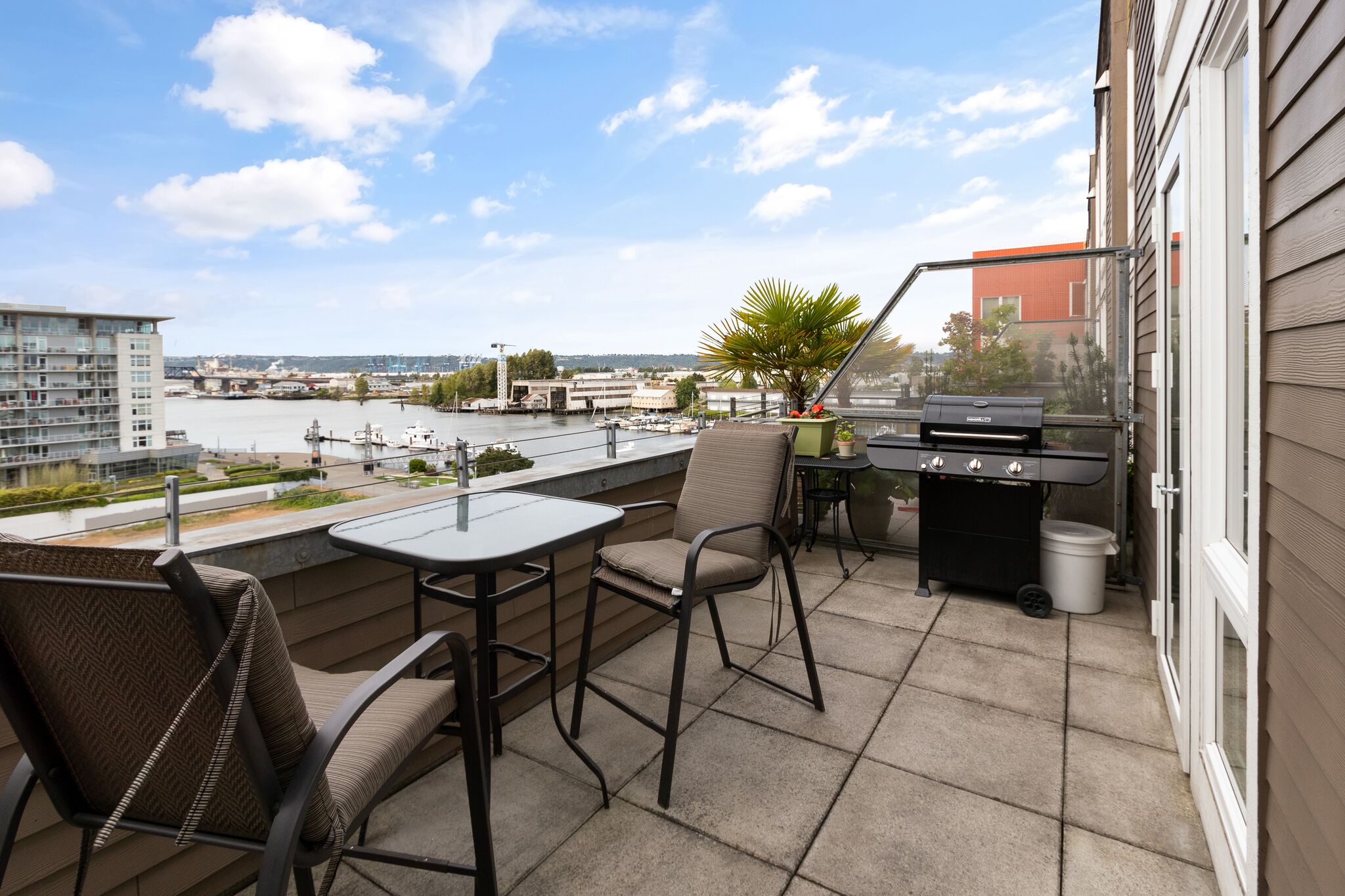 3. Thea's Landing amenities promise a resort-inspired lifestyle.
When it came to designing Thea's Landing's vacation-ready amenities, no expense was spared. Residents get access to several top-notch features, including cabanas and outdoor barbecues, a party clubhouse, 2 gyms (including locker rooms), a sauna, 2 parking spots, security, a concierge (which includes secure package delivery!), and a business center. Whether you need a space for large-scale entertaining or just want to barbecue with a couple friends and enjoy views of the mountains and sound, easy living is all yours.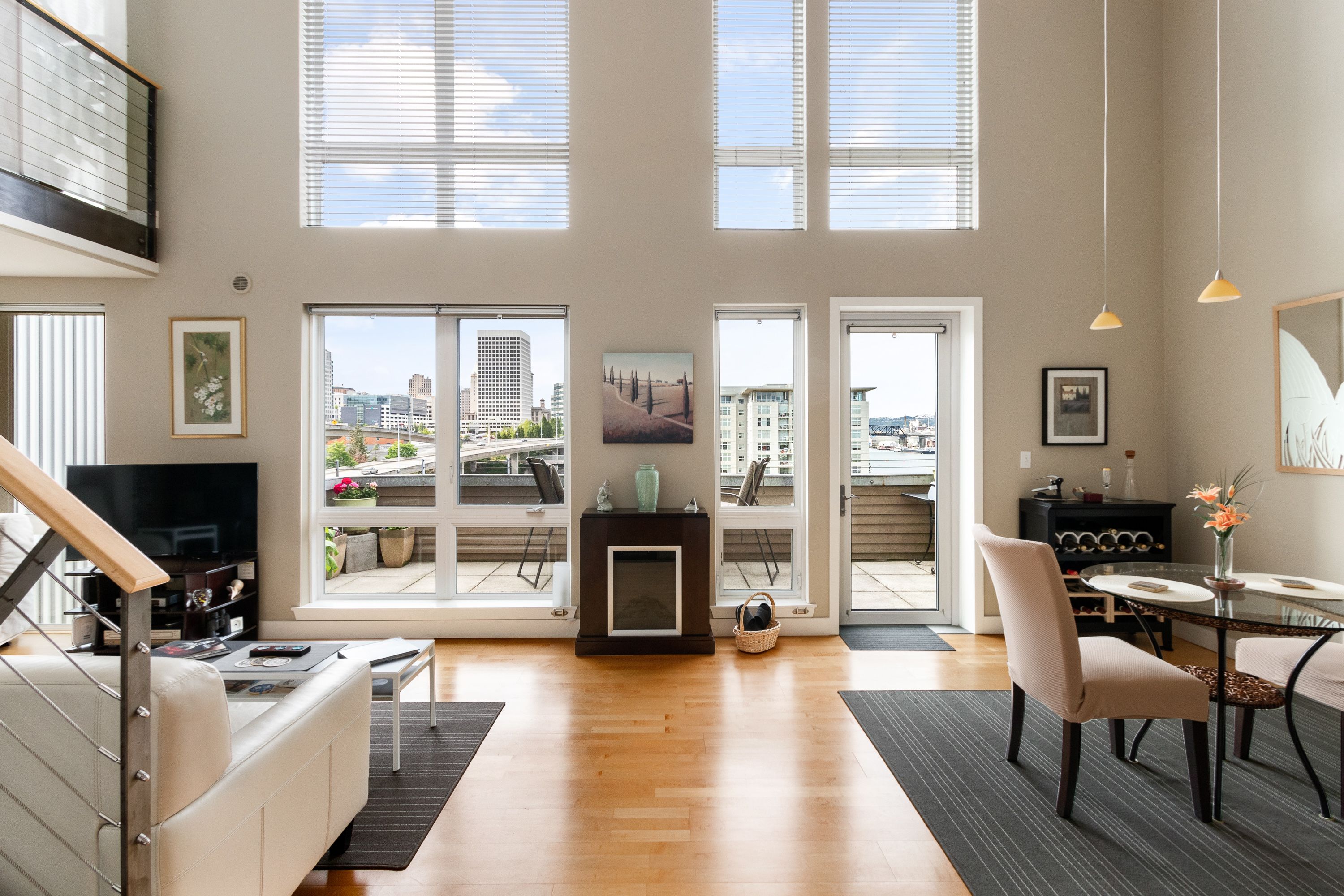 4. Penthouse units just for owners!
Thea's Landing is a mixed residential building—you'll find a floor of retail and restaurants, 4 floors of executive rentals, and fabulous penthouses with secured access that are only for owners. These beautifully appointed units borrow architectural inspiration from the Port of Tacoma, and cement and wire elements add to the industrial vibe of each space.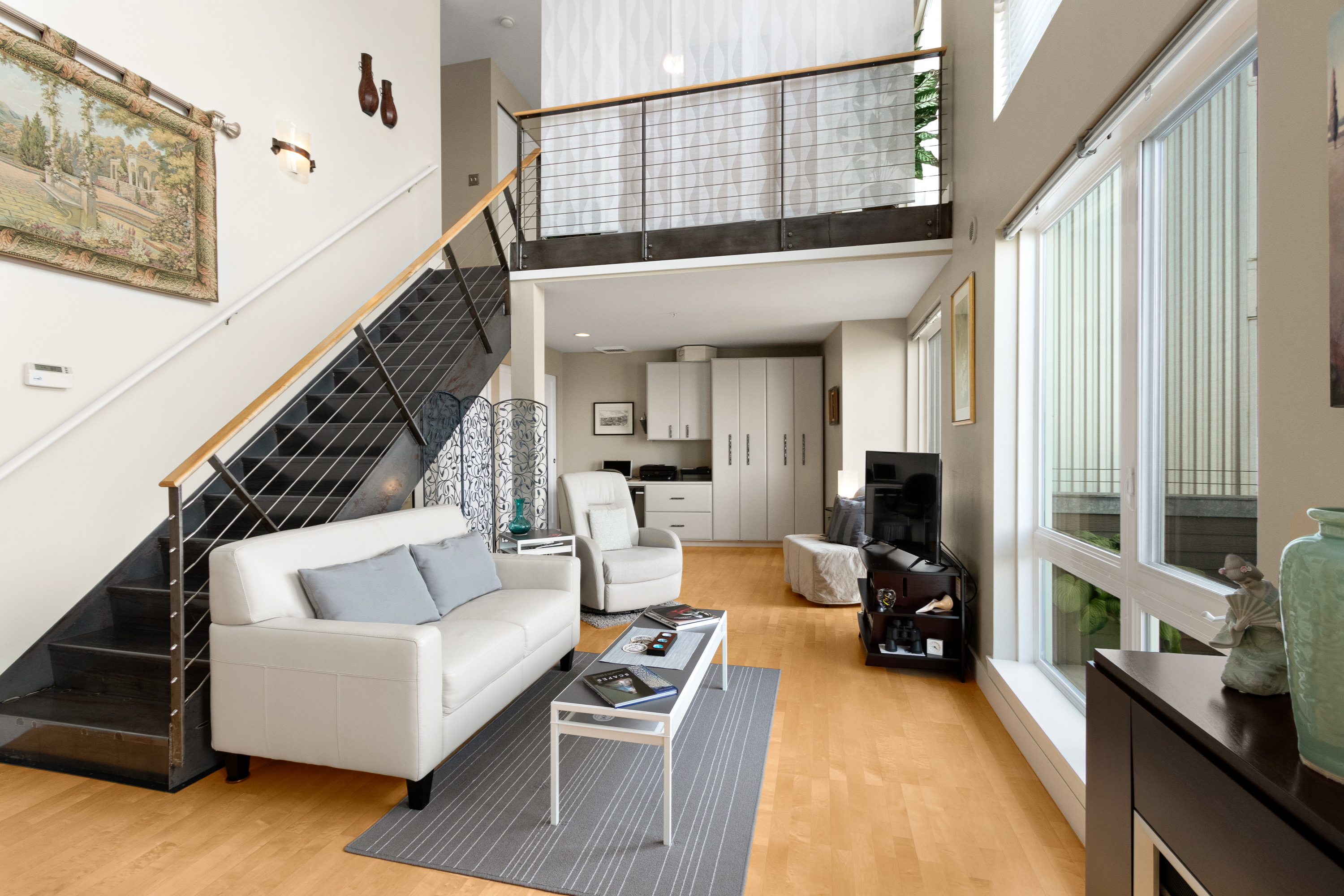 There's currently a 1-bedroom, 1.75-bath penthouse available, and here you'll find a 934-square-foot open-concept layout that's an absolute delight to spend time in. Soaring ceilings and a wall of windows not only promise as much rejuvenating natural light as possible, but also create a big, inviting atmosphere. The open-concept layout is ready for entertaining guests, and a well-appointed kitchen is replete with storage options, generous counter space, and of course, stylish finishes at every turn.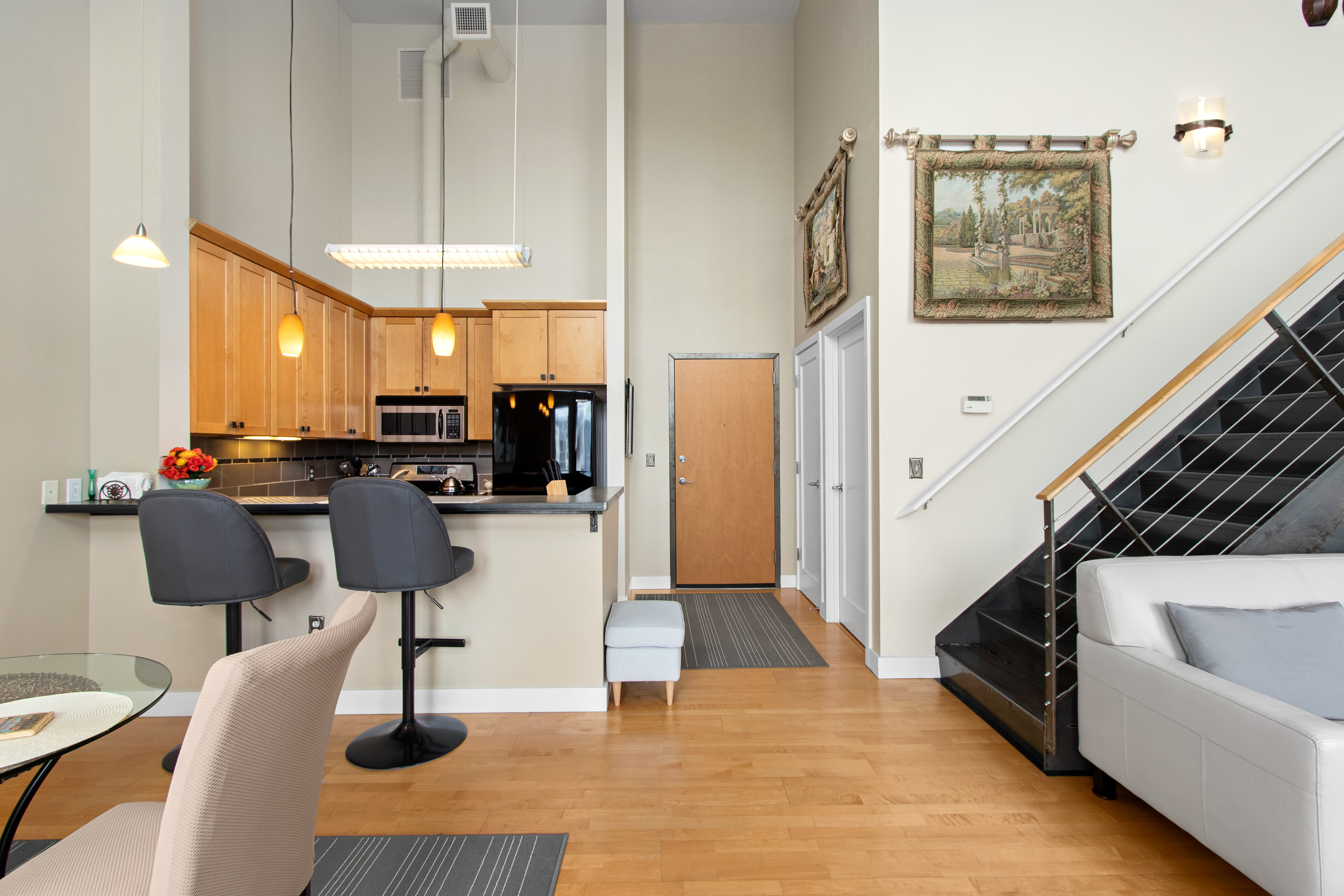 Wake up each morning to enjoy a hot cup of coffee on your private balcony, enjoy pre-dinner cocktails gathered around the bar-style kitchen counter before heading out to dinner, and snuggle up in bed with even more waterfront views—paradise awaits! This penthouse at Thea's Landing is listed for $339,000—click here to view all photos and info! 
Interested in learning more? Click here to view the full listing! You can contact REALTOR® Regina Madiera-Gorden online here or give her a call/text at (253) 381-6685 or reach out to REALTOR® Madison Lord online here or give her a call/text at (253) 686-7383.